Why is no one is reading sustainability reports? Well, maybe because it's wrapped in dense corporate documents that no one cares to read or feels involved in (including the sustainability professionals from within…)? As MUD Jeans does everything different, they completely avoided boredom and made their sustainability reporting a pleasure to read, replete with rich storytelling features. We want to share and highlight 5 tips derived from their report.
Reporting on sustainability of your organisation has become more important than ever. Investors globally continue to be concerned about climate change risks and the transition to a low-carbon economy
(read here)
. But also citizens and potentially customers want to feel good about the companies they buy from. Let's dive into MUD Jeans' sustainability report and learn why it's actually being read instead of ending up as desk (top) filling material.
MUD Jeans is a Dutch jeans brand, B-Corp certified, selling circular jeans with recycled and organic content. This year, in collaboration with HSM, they have developed the most circular denim.
1. Transparency & Traceability
The first thing thats strikes us immediately is that full transparency and traceability is given, no holding back or excuses to share. For example, they exclusively work with three recyclers, three fabric producers and one jeans manufacturer. It covers the names and locations of their factories, as well as the names of their owners. Each assigned certificate is also titled and described for each product/process. To begin the report, notable environmental rescues, saves, and figures are provided. It demonstrates the significant beneficial influence that this company has.
Some highlights
WATER: As we might know already, on average about 7,000 litres of water per pair of jeans is used. MUD Jeans uses just 400 litres of water to produce one pair of jeans, saving 6,600 litres per jeans. In 2022, they conserved 48.7 million litres of water through their material choices and water-saving production techniques.
CO2: On average, 8% of global greenhouse gas (GHG) emissions are produced by the apparel and footwear industries. Between 2021 and 2022, MUD jeans was able to reduce their average CO2 impact by 42.3%! This is due to their use in energy-efficient production processes.
Recycling: 18,363 pairs of old jeans were turned into new ones.
Within MUD jeans' circular denim, they contribute to achieve the above mentioned SDGs
2. Aligning with Sustainable Development Goals (SDGs)
In 2015 all United Nations Member States adopted the
2030 Agenda for Sustainable Development
. This agenda provides a shared blueprint for peace and prosperity for people and planet. At its core, 17 Sustainable Development Goals (SDGs) have been set. These are an urgent call for action by both developed and developing countries in global partnership. "Ending poverty and other deprivations must go hand-in-hand with strategies that improve health and education, reduce inequality, and spur economic growth – all while tackling climate change and working to preserve our oceans and forests", according to the UN members.
Did you know that during the integration of these 17 goals during the COP21 in Paris, the owner of MUD jeans Bert van Son got the opportunity to share their story at l'Université de la terre!? Being a B-Corp organisation, and contributing to several SDGs, MUD jeans is making sure to use their business as a force for good. SDG12 – Responsible Consumption and Production is closely aligned with Mud Jeans' mission and vision. This goal seeks to develop business activities in a way that is both sustainable in terms of consumption and production.
For example with their award winning
Lease A Jeans
concept, they provide customers with a sustainable method of consuming, and both are created in a sustainable way. They are creating awareness about the current state of the world in particular to fashion and apparel and they share why they do things in a different way. Sustainable fashion means long lasting, high quality products that don't need to change every season. Therefore they set a goal to grow until they reach a production level of 500,000 jeans per year and from then on they will stabilise their growth.
3. Storytelling
Throughout the report, pictures and rich stories are being told to inspire the reader. They include personal photos in the report to give readers a sense of how much fun they have, and how much they enjoy what they do.
And that is the power of storytelling: to really inspire and talk to the hearts of the readers. Make them a part of your story and part of the journey.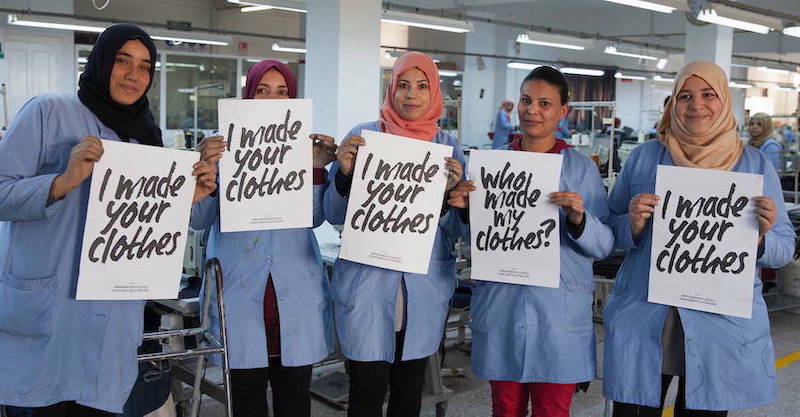 4. Define Bold Goals
MUD jeans is definitely not afraid to set some heavy and bold goals with a clear time frame. Like their extensive 2023 goals:
Together with B Lab Working Group and topic experts, launch a handbook for businesses that wish to start their journey on the topics of justice, equality, diversity and inclusion (JEDI).
Run a webinar with pioneering B-Corps to share JEDI best practices.
Organise a live 'behind the scenes' from their supply chain partner in Turkey.
…and many more! SMART goals have been set. Now the readers will likely follow seeing you accomplishing these goals!
5. Interact with your stakeholders
Not only does MUD jeans interact with its consumers, retailers, supply chain partners and workers, academia & NGOs (such as Ellen MacArthur Foundation, Circle Economy, B Lab, AMFI, Saxion, Fontys), influencers and other denim brands. We see Bert and his colleagues always interacting with their audience during a talk, showing pictures and movies. We often see them sharing images of MUD jeans groupies who love to boast about them. Also, there is an enormous internal interaction going on at team MUD. Did you know they have Wednesday and Friday company runs, drive electric and bake their own bread?
What we particularly liked was how they organised a webinar to go over their first sustainability report (in 2018) in depth. Eva Engelen, CSR manager for MUD Jeans, describes how it will work in the future:
"With our first sustainability report, ever, we will look at the past and the future. As a circular denim brand and BCorp, we have a big impact, of that we are sure. However, being a scale-up we have not been able to precisely measure this impact, which we will do in the near future. Modern transparency is what we live by. In this light, we are extremely proud and excited to share with you how we strive to be more sustainable and circular."
Are you ready to transparently communicate your sustainability efforts? Why not enrol in our new short course
'Sustainable Marketing & Communication'
, where we focus on the skills and knowledge needed to communicate transparently and avoid greenwashing. Or get in contact with us to discuss how we can help your business personally. Click
here
to contact us or learn more about
our services.